Welcome.
You're about to learn everything there's to know about green card photos.
On this page, you'll find:
Green card photo requirements presented in a simple, easy-to-understand language.
Examples of green card photos to help you avoid common mistakes.
A picture of a green card (front and back) to give you an idea of how it looks.
A green card photo checker and tool to ensure you get the green (pun intended) light from the USCIS.
Let's make a start:
Green Card Lottery Photo Requirements
Your photo for a green card is key in your application.
Fail to meet the requirements, and you'll end up in the dreaded rejection pile.
But—
Don't stress.
We'll now go over the requirements to ensure your photo gets the seal of approval.
| Paper Photo Requirement | Details |
| --- | --- |
| Color | The photo must be in color |
| Green Card Photo Size | 2×2 inches (51×51 mm) |
| Head Position | The head should be between 1 inch and 1 3/8 inches (22 mm and 35 mm) or 50–69% of the image's height |
| Timing | The photo must be taken within the last 6 months |
| Background | Must be plain white or off-white |
| View | Full-face view directly facing the camera |
| Facial Expression | Neutral with both eyes open |
| Lighting | Even with no shadows |
| Quality | No blurry, pixelated, or grainy photos |
| Clothing | Regular daily clothing. Uniforms aren't allowed except daily-worn religious ones |
| Hat/Head Covering | No hats or covers that obscure hair/hairline or cast shadows on the face unless worn for religious reasons |
| Headphones and Similar Devices | Not acceptable |
| Eyeglasses | Not allowed unless for medical reasons. In this case, no covering, glare, shadows, or refraction obscuring the eyes |
| Hearing Devices | If you wear them regularly, they can be in the photo |
| Unacceptable Photos | Photos from other official documents, snapshots, magazine photos, and low-quality vending machine photos. Neither are digitally alternated or enhanced images allowed |
Now—
If you're applying online, you must submit a digital green card image as part of your application.
Below are the additional requirements for it:
| Digital Photo Requirement | Details |
| --- | --- |
| Dimensions | Square aspect ratio. Minimum: 600×600 pixels. Maximum: 1200×1200 pixels |
| Color | In color (24 bits per pixel) in sRGB color space |
| File Format | JPG |
| File Size | Less than or equal to 240 kB (kilobytes) |
| Compression Ratio | Less than or equal to 20:1 |
| Scanning Resolution | If scanning an existing photo, it must be 2×2 inches (51×51 mm) and scanned at a resolution of 300 pixels per inch (12 pixels per millimeter) |
If you're overwhelmed by all the requirements by now, you're probably not alone.
That's why our next section discusses good and bad green card photos to help you visualize the do's and don'ts.
Green Card Photo Examples
Without further ado, here are 8 examples of green card photos:
Background
Your background should be plain white or off-white, free of patterns, shadows, or distractions.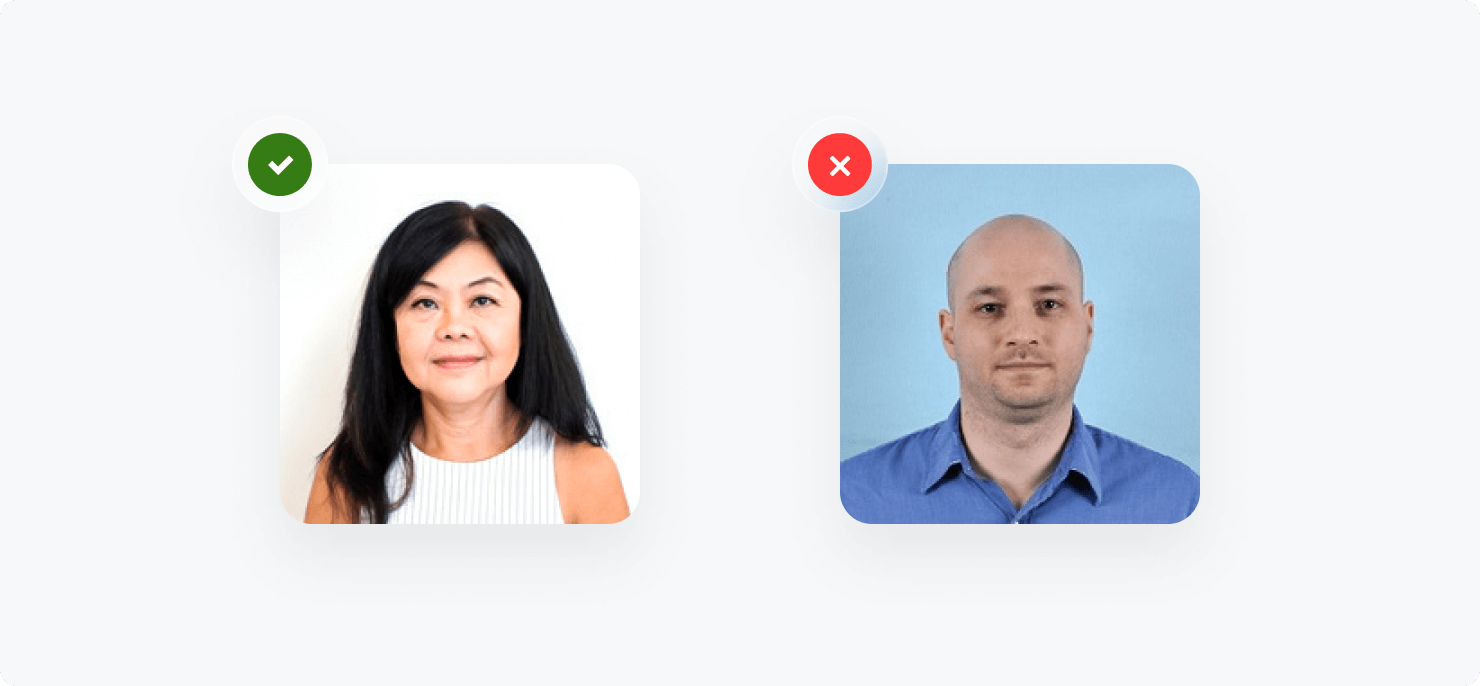 Size and Position
The head in the photo should fall between 1 inch and 1 3/8 inches (22 mm and 35 mm) or occupy 50–69% of the image's height to ensure proper framing.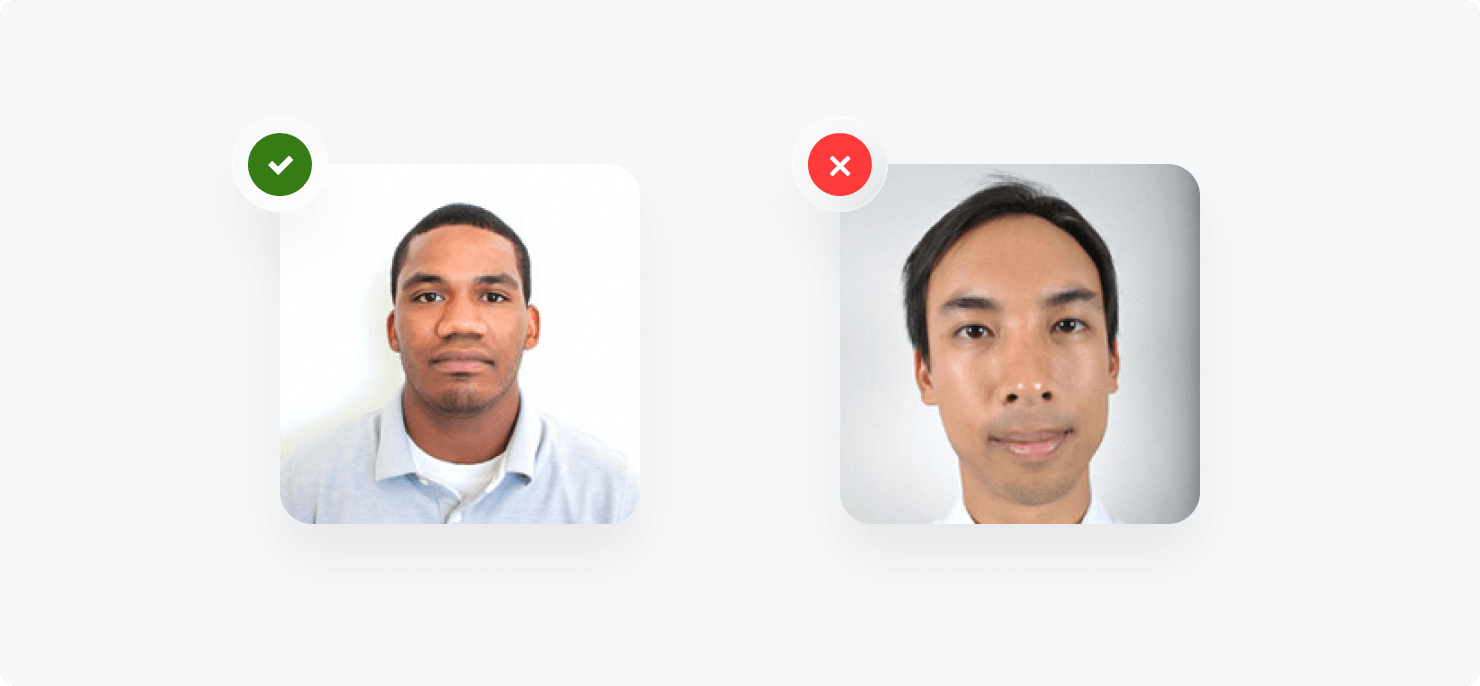 Pose and Expression
Your face should be directed straight at the camera. Ensure both eyes are open and avoid exaggerated expressions.
Attire, Hats, and Hair
Wear what you usually wear. Hats or other head coverings that obscure the hair/hairline aren't allowed. There are only exceptions for religious reasons, provided they don't cast shadows on the face.
Resolution and Quality
Your photo should be of high resolution to capture details accurately. Any blurriness, pixelation, or graininess can result in rejection.
Shadows and Lighting
Shadows can alter how your facial features appear. That's why it's important to have even lighting when taking a green card photo.
Glasses
Glasses are generally a no-go. They can cause reflections, glare, or shadows that might obscure the eyes, making it difficult to verify your identity.
Digital Alterations and Retouching
It's important to stay authentic. Any digital enhancements or modifications that alter your appearance can be misleading and aren't allowed.
Green Card Photo Check
So far, so good.
Now—
If you still need an expert opinion on your photo, this AI green card photo checker tool will do the trick.
Simply upload your image, and it'll analyze it for compliance with the requirements above. The tool will check, among others:
The image quality to ensure proper focus and sharpness
The lighting to reveal any shadows or glare
The head position to determine if it falls within the required range
Beyond AI, a real human will review your photograph to ensure it's on point. If there are issues, they'll guide you on retaking the photo at no additional cost.
Neat.
Green Card Photo Tool
If you don't have a photo to start with, worry not.
This green card photo tool can also help you take a perfect photograph in minutes without leaving home.
Here's what you need to do:
Find a well-lit area.
Place your smartphone on a flat surface, use a tripod, or ask a friend or family member to take the shot.
Upload the photo.
The software will automatically adjust the size, background, and more to meet the requirements.
One of the in-house biometrics experts will review the photo for any necessary corrections.
Get your 100% compliant image.
Voila!
FAQ
What Does a Green Card Look Like?
In January 2023, USCIS unveiled a newly designed green card with advanced features like holographic images and variable ink. It looks like this:
How Much Is a Green Card?
A family-based green card costs $1,760 for applicants in the United States and $1,200 for those outside the country.
Can I Take a Green Card Photo With an iPhone?
You can take a green card photo with an iPhone using this green card photo tool. It'll take you less than 3 minutes. Approval guaranteed.